For many years, the use of paper-based forms has been a classic method of collecting information from all sorts of sources. Now internet technology provides the opportunity to collect this information electronically but it is surprising how few organisations pursue this opportunity fully.
It is common, for instance, for an organisation to put up a PDF copy of a master legacy form on their web site but then, frustratingly, require users to print the form out locally, fill it in by hand and post it or fax it back. This approach misses a golden opportunity to deploy a true electronic forms solution which can make the process of submitting forms easier and more efficient for users, reduce the probability of errors and simplify and improve work flow processes.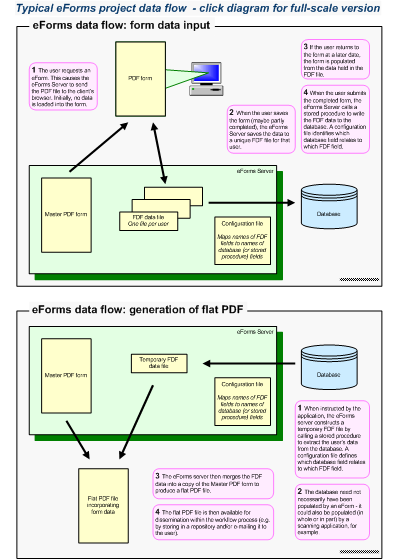 To address this, Evenlogic has set up an eForms software development group that specialises in providing true electronic forms solutions. At the heart of many solutions is evenlogic's eForms server software package which serves master PDF electronic forms from a web server. A user obtains the master PDF form that they wish to fill in by clicking on a web link and then proceeds to fill in the form using Adobe Reader from within their browser window. If they wish, the user can save to the web server the data that they have entered using a "save" button, in which case when they request their form again, it is automatically filled in server-side with their data and they can continue working on the form from the point where they had left off. Once completely happy with all the data entered, the user can submit the form to the web site using a "submit" button. The "evenlogic eForms server" package runs in conjunction with Microsoft's IIS web server. Solutions can, optionally, incorporate a SQL Server or Oracle database.
Depending on a project's specific requirements, an alternative approach is to use HTML forms rather than PDF forms as the method of collecting the data from users to a database. Whichever method is used for collecting data, Evenlogic's eForms technology can be used also to create a "flattened" PDF copy of the completed form. A copy of this can then be emailed back to an applicants for his or her records and further copies can be used for dissemination within the workflow processes of the form provider.
Click eforms_brochure.pdf for a four page A4 brochure which describes evenlogic's eForms server package and includes FAQs and case histories (PDF file size 680KB).
For more information - www.evenlogic.co.uk or call Evenlogic tel 020 8876 8878 or email info@evenlogic.co.uk